Blood work results: How can they help
Blood work results can help assess function of your immune system, bone marrow, spleen, lymphatic system, liver and the kidneys, while exposing deficiencies in your diet or weaknesses inside the body.
They show in how good or how bad condition you are, thereby help you deal with these problems, the right way. What works for one person maybe won't work for another since we are all different.
MY BLOOD TEST RESULTS AND URIN ANALYSIS
Note: For better view, click right mouse button on the picture and open it in a new window.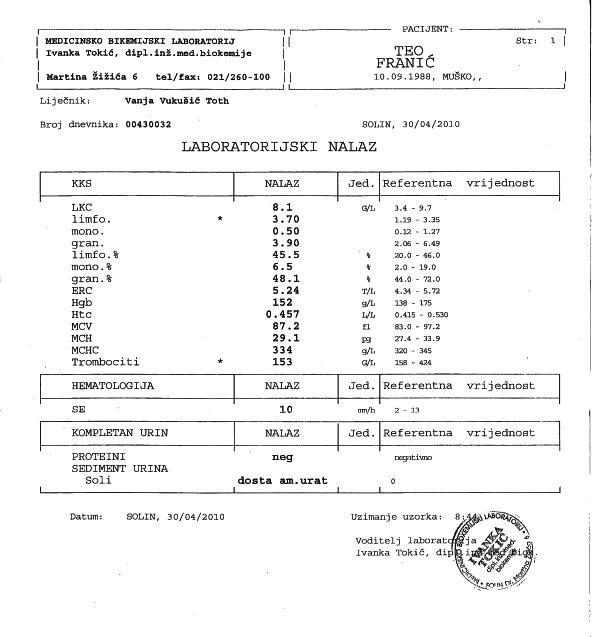 BLOOD WORK RESULTS - ACRONYMS EXPLAINED
LKC - leukocytes
limfo. - lymphocytes
mono. - monocytes
gran. - granulocytes
ERC - erythrocytes
Hgb - hemoglobin
Htc - hematocrit
MCV - mean cell volume (size of the erythrocytes)
MCH - mean cell hemoglobin (average amount of hemoglobins in the erythrocytes)
MCHC - mean cell hemoglobin concentration (average concentration of hemoglobins in the erythrocytes)
Trombociti - thrombocytes
SE - sedimentation
WHAT ABOUT LYMPHOCYTES AND THROMBOCYTES
I got sick five time in a period of six months, from october of 2009 to april of 2010 which never happened to me before. This test was done 30.04.2010 which was the fifth time I was sick in this period.
As you can see from my blood work results above, my lymphocytes were increased due to infection, while my thrombocytes were a little bit low. Later, I found out that congested liver can result in low thrombocytes which could explain liver pain I was having, during detox.
Frequent colds I was having, were consequence of overtraining and bad diet which was based mostly on fruits and vegetables but which was lacking in protein, carbs and fats.
Even my cholesterol and triglycerides got very low due to low fat and low carb diet, while my electrolytes and insulin were normal because of the minerals and vitamins rich fruits and vegetables I was eating as well as due to supplements I was taking.
To see this other test, check the cholesterol link on the left or just type: "Cholesterol lab results" in the search box, on the right.
WHAT DID I CHANGE
My hormone and cholesterol blood work results which I had to go through several months after this test, were important, too.
After I figured out how the body works and was knowledgeable enough to understand what these tests were saying to me, I eventually started changing things.
First of all, I switched from jogging to sprinting. However, I still use jogging to warm up and to cool down. Also, I realized the importance of rest and started to watch out for symptoms of overtraining, by paying more attention on to signs that my body is sending to me.
When it comes to diet, I included more fats, carbs and protein to my eating schedule, in order to prevent nutritional deficiencies.
WHAT DID I CHANGE WHEN IT COMES TO SUPPLEMENTS
The first supplements I was taking were superberries, Hawthorn berry and fish oil, while trying to get rid of my heart disease. However, as I acquired new knowledge thanks to blood work results, books and internet, I decided to try other supplements.
Overtime, I discovered adaptogens, immune system boosters, probiotics, importance of vitamin D during winter, detox herbs and other healthy foods and supplements which work for me.
Finding these herbs and supplements in one formula, makes supplementation much easier which is the reason why I love so much ORAC-Energy Greens.
Learn everything you need to know about heart healthy diet and find the right one for you. Implement few simple tips for immediate benefits.
Heart healthy foods can improve cardiovascular system function. Foods good for the heart are bursting with vitamins, minerals and rejuvenating phytochemicals.
You have heard for hawthorn and garlic but there are few other herbs for the heart which can help in treating heart disease, naturally.
Besides fish oil, there are several heart health supplements which can be useful. This includes Coenzyme Q10, Salicin, vitamin D3 and few others.
Although there are many heart healthy spices out there, each of them can help prevent and treat heart disease in its own way, thanks to different types of flavonoids in these heart spices.
Stress and heart disease are closely related. In order to decrease the risk of heart problems, we have to learn how to handle the stress and treat its consequences, if we are unable to avoid it.
Cardio exercises are vital part of natural heart disease treatment. However, which kind of heart exercise you should preform, varies from person to person.
Good vs bad cholesterol conflict is somewhat misunderstood. There is no good or bad cholesterol but only high or unbalanced cholesterol.
What is the real truth when it comes to good fats vs bad fats? How much dietary fats should you consume daily and what are the best food sources of healthy fats?
High blood pressure remedies range from tips and lifestyle modification to herbs and supplements. However, the method that works for someone else, may not work for you.
Normal heart rate varies from person to person. Although, age affects resting heart rate, there are many other factors that can raise or decrease heart rate.
How to lose fat is surely one of the most intriguing questions for so many people. However, the answer is very simple. Eat healthy foods, perform fat burning exercises and take care of your hormones.
Don't neglect hormones and heart disease connection. If you want to treat or prevent heart disease you have to balance your hormones.
Heart disease and immune system connection is often overlooked, while trying to improve cardiovascular system function. However, there are several things you can do to change this.
Dental health heart disease connection is one of three overlooked factors, along with hormones and immune system. However, with smart and effective approach we can change this.
There are many causes of heart disease and factors that can increase or decrease your risk for developing heart related problems. Check how to turn the tide in your favour.
There are few main symptoms of heart disease. Find out which are they, how to recognize them as well as my personal experience with some of them.
Accurate diagnosis of heart disease is the first step toward recovery. You can't start with treatment before you know what kind of disease you have, obviously.
Standard treatment for heart disease consists of surgeries, medications and devices. Which one is right for you, depends on your condition.
This is a blog about natural remedies, personal stories, helpful herbs and supplements, workout program as well as other tips and facts which may help people faced with heart disease.
Ask questions and leave comments about this site here.
About the author of Heart-health-guide.com website.
This is sitemap of Heart Health Guide.com. If you want to get better overview of informations on this website, you can get it here.
Copyright © - Heart Health Guide - All Rights Reserved.
About Author | Privacy Policy| Disclaimer / Disclosure | Contact